China-Air-Shipping-Freight-Forwarding-From-China-to-Paraguay
Air Shipping/Freight Forwarding From China to Paraguay
This is Mag from ALHY International Transportation Co.,Ltd.
Product Description
What we can do for you
Basic international freight service (support Door to Door)
1. Air freight/transportation/cargo
2. Sea freight/transportation/shipping (FCL/LCL)
3. Ground transportation (by trucking, rail)
4. International Express with competitive contracted rate (from UPS/TNT/DHL etc. )
Value-added service
1. Consolidation cargo (collect goods from your different suppliers and arrange as one shipment)
2. Warehousing/Storage service
3. Insurance service
4. Customs Clearance (More than 10years experience)
5. Documentation service (please see details as below)
6. Repacking service
7. Cargo Inspection
8. Blind shipping/drop shipping (conceal original supplier/customer name)
Documentation Service
1. Fumigation/Disinfection Certificate
2. C/O (Certificate of Original)
3. FORM A, FORM E, FORM F
4. Commodity Inspection
5. Embassy/Consulate Endorsement
ALHY International Freight Forwarding Ltd. Is a licensed shipping service company approved by Ministry of Commerce,
Ministry of Communications.
Before inquiry, providing your cargo details as following will be highly appreciated.
1. Name of commodity
2. Total Gross Weight of commodity
3. Total Volume of commodity
4. Port of loading (POL)
5. Port of discharge (Pod)
6. Trade terms (FOB, EXW etc. )
7. Value for Transportation Insurance
Besides these, we also offer extra services for your customers;
1. We consolidate your products from different suppliers, and send to you in one time.
2. We offer our warehouse to you for free.
3. We help you do Pack or Re-Pack for free.
4. We sourcing products for you for free.
5. We offer quantity control and quantity confirm for you for free.
    Before your order, we help you confirm your supplier's factory for free.
6. Documentation service, Certificate of Origin (C/O), Form E, Form A service
7. Drop shipping to protect your business secret
8. 365days/24hours support service
Shenzhen ALHY is willing to establish business relations with customers from all over the world.
We would like to explore the possibilities of working with the esteemed company like you.
We are looking for stable business partners who are also interested in establishing fruitful cooperation for the long-term business.
Shenzhen ALHY is a great team, we are long here for you!
If you have time, we sincerely wish you can come here visit us, check Mag, check our company and check our warehouse.
If you have any questions, just feel free to ask me, Mag is here for you.
Pho: 0086-13429815596
Contact name: Mag
Weight
Range
Portugal, East Europe,UAE
$/kg
West Europe
$/kg
Canada, Mexico
$/kg
Australia
$/kg
US West coast
$/kg
US East Coast
$/kg
carrier
1000+kg
5.19
3.82
3.72
5.20
3.65
3.72
UPS, FedEx, DL, AA, AF, CX
,CA, CZ, NW, TG,KE
800+kg
5.06
3.65
3.74
5.15
3.61
3.74
500+kg
4.51
3.85
3.74
5.09
3.61
3.78
300+kg
4.33
3.85
3.74
4.99
3.61
3.78
100+kg
4.32
5.93
7.97
4.48
6.64
7.13
 
The Costa Rica data is a kind of customs data, it includes the information like importer name, address, HS code, HS code & products description,
price, quantity, etc. It supports to be checked in the
GTO Database
, without any limitation on HS code or company searching.
If you're thinking about entering a new market, but are not sure which, our data can prioritize target markets.
If you're looking for importers, distributors, potential end customers, or partners, our data can screen out them.
If you're monitoring your competitors, our data could continuously show you those companies' trading movements.
Costa Rica Import Data monthly summary
Report
for Chapter 29: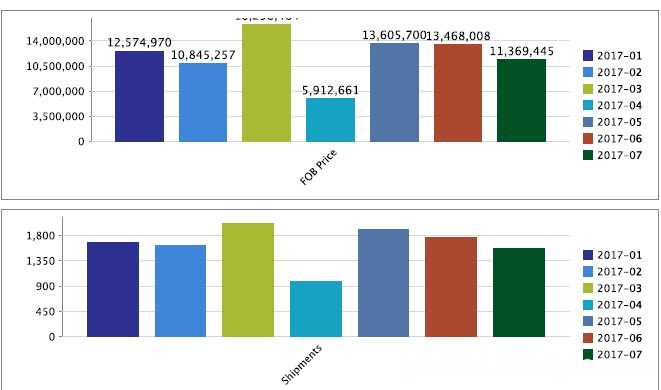 Costa Rica Trade Data,Costa Rica Economy,Costa Rica Exports,Costa Rica Imports
Global Trade Online Limited , https://www.gtodata.com