China's ski industry will usher in a real golden period in 15 years
[Maidian.com] On the 13th of the China International Sporting Goods Fair (winter) and the previous high-end forum of China's ski industry, ski industry experts and business representatives from all over the world, on the international...
[Maidian.com] On the 13th of the China International Sporting Goods Fair (winter) and the previous high-end forum of the Chinese ski industry, ski industry experts and business representatives from all over the world have produced the Chinese ski industry after the international financial crisis. With strong interest, China's ice and snow industry will have a great development in the next 15 years.
China's ski industry started late, but in the past ten years, the rapid development from scratch and from small to large has attracted widespread attention from the international community. International industry giants have seized the Chinese ski tourism market. Yong Yong, the general agent of Germany's Walker ski equipment in China, believes that "the Chinese ski industry will usher in a real golden period in 15 years."
Going skiing is more "fan" than wearing fur.
In Harbin, the northernmost capital city of China, fur products are a symbol of "identity". However, such "identity cards" have been quietly changing, and many "identity" citizens have put on colorful ski suits. Although such a set of costumes is thousands of pieces, it has become a fashion element in this city. "Today, are you slipping?" has become a popular greeting in the winter.
After the Harbin Asian Winter Games in 1996, China's ski tourism industry has grown from nothing to small and large in the past ten years. It first occupied the market in Heilongjiang and extended to northern cities such as Changchun and Beijing.
In the past, due to the limitations of hardware conditions such as venues and facilities, in addition to professional skiers, the general public in China rarely participated in skiing. According to data from the Heilongjiang Provincial Tourism Bureau, in the decade of 1996-2006, Heilongjiang ski tourism received a total of 11.5 million person-times. In the 2006 snow season alone, the income reached 2.22 billion yuan, compared with the original hundreds of skiers. Than, not worthy of astronomical figures.
Yong Yong believes that the ski industry is a representative of the low-carbon economy and creates green GDP. "It is in line with the spirit of the times, and the popularity is also an inevitable trend." As for the financial crisis that "Yu Wei" is still in, he thinks it may have an impact, but with the economic recovery and Consumer confidence has regained, and this healthy fashion consumption and leisure style has once again been sought after by travel enthusiasts. "Ski is known as the "opium" movement, and it is really addictive. It can't be taken on a snowboard. Its fans are mostly lifelong."
International industry giant wants Chinese people to stand on the snowboard
Yong Yong conducted a market research in 2000. At that time, China's ski population (referring to more than 4 times in each snow season) was only a few hundred people, but now it has reached 20,000, and half of them are concentrated in Heilongjiang. It can be seen that although the growth rate of China's ski industry is very fast, the incremental space is still very large. The annual increase of millions of tourists is a potential increase in the ski population, which is also an important reason why foreign ski industry giants have gathered in China.
At this ski industry summit forum, the Winter Sports Federation of South Tyrol, the Japan Ski Association, the French French-Chinese Business Association, the Japanese Hoshino Resort Group, and the American SMI Snowmaking Company have all focused on the ski industry in Heilongjiang.
German Walker has been aiming at this potential market in China. Yong Yong said that in North America, Walker's "super sports" single product sold 80,000 yuan last year, while the Chinese market's total retail sales per year was only a few thousand, but this did not affect them. Market confidence and strategic layout.
The fair attracted well-known domestic and foreign companies including skiing, snowmaking equipment and ancillary products. The high-tech competition has become a hot spot in this expo. On the high-tech snowboard displayed, the fixer can make three movement adjustments according to the height, weight and snow quality of the skier. A pair of snowboards can be used for three. Used by different skiers.
Not only ski equipment, but also all aspects of the Chinese ski industry have become the target of international corporate investment. From the five-star resort hotel of the Yabuli Xinyi Resort Ski Resort invested by Macao Capital, to the downstream skis, ski clothing and accessories, as well as the snowmobile cable equipment and snowmaking equipment, it is the economic point of concern for large foreign ski companies. . Japanese clothing brand Di Sant once dominated the Chinese ice project market, and now it has begun to enter the ski clothing market on a large scale, and the same is true for Walker and other branded clothing. They have increased consumer awareness by sponsoring ski teams and large-scale competitions. degree.
China's ski industry needs to pay attention to "security risks"
"China's ski industry still needs 15 years to truly move into the golden period. Now it is only a growth period!" Yong Yong analyzed that the "green" ski industry has received the attention of the government. Heilongjiang has owned a number of large-scale ski resorts and five-star hotels. The supporting facilities such as the mountain cable car have also reached the international first-class standard. However, the overall layout of the ski industry still needs to pay attention to details and some "security risks."
Panama data comes from the customs declaration reports, it includes the importer name, HS code, description, price, quantity, etc.
It supports to be checked in the GTO database, without any limitation on HS code or company searching.

If you're thinking about entering a new market, but are not sure which, our data can prioritize target markets.
If you're looking for importers, distributors, potential end customers, or partners, our data can screen out them.
If you're monitoring your competitors, our data could continuously show you those companies' trading movements.
Panama Import Data monthly summary Report for Chapter 29: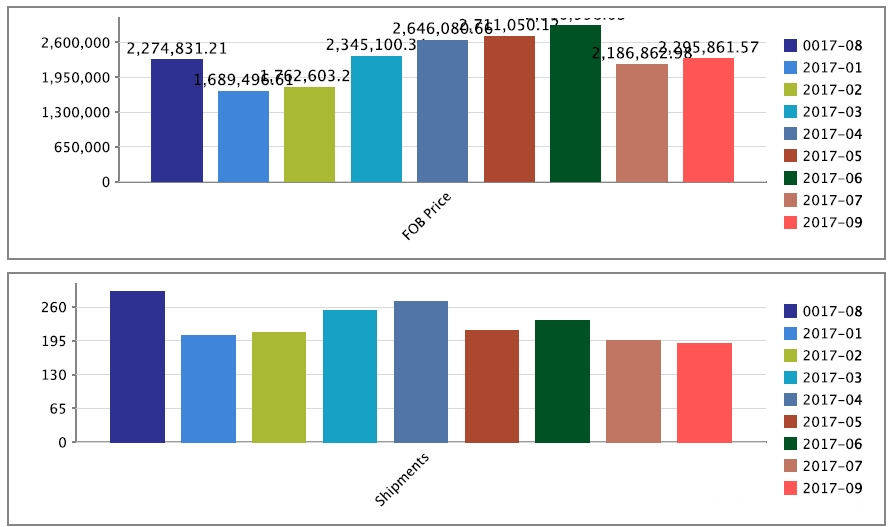 Panama Trade Data,Panama Exports,Panama Economy,Panama Imports
Global Trade Online Limited , https://www.gtodata.com